Venice
From ThroneWorld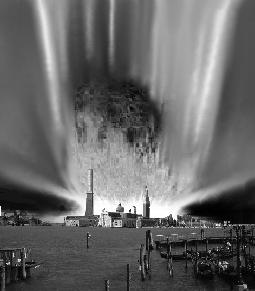 The Pearl of the Adriatic: for centuries the Imperial Capital of the Danish Empire.
The grey pearl is an important motif, with Danish military uniforms dark grey, with elite troops such as the Jägerkorps in grey and black.
Famous locations:

The Fortress of the Pearl. One of the grey towers was known as the Tower of Sight prior to the building of the skywatch observatory.
The Palace of the Pearl – containing the Throne of Pearl.
Saint Mark's Cathedral.
The Royal Pavilion (used to host chess tournaments).
The Arsenal.
The Isle of the Dead.
The three hundred foot high Tower of Sight built on the island of Moreno in the lagoon.
The city was connected by the Six Bridges to the shores of Verona.
In 1743 a terminal was built at the Lagoon-side port of Mestre to link Venice with the Danish railway network.
History:

568 Founded by refugees entering the marshes of the Po estuary following the invasion of northern Italia by the Lombards.
In the mid-8th century, the Venetians resisted the empire-building efforts of the King of the Franks, Pepin III and remained subject to the Byzantine Empire.
A possession of the Kingdoms of Corsica until about 1415.
A possession of the Danish Empire from about 1420.
Capital of the Danish Empire from ????
1476 Venice is sacked by Dray of Rhodes commanding a Berber fleet and the Imperial Capital moves to Munich.
???? Venice becomes the Imperial Capital again.
1701-1702 Venice beseiged as part of the Holy Cross War by the armies of the Exarchate of Trebizond.
1705-1706 The lagoon and canals of Venice freeze during the winter as a prequel to the Ice War.
1725 The Tower of Sight – a skywatch telescope - is built with its twin Il Dioptre on Crete.
1744 The city is destroyed by an asteroid impact in the War Against the Beast.
---
Drowned city of Old Earth, North Italian Military District.