Hadeishi
From ThroneWorld
Mitsuharu Hadeishi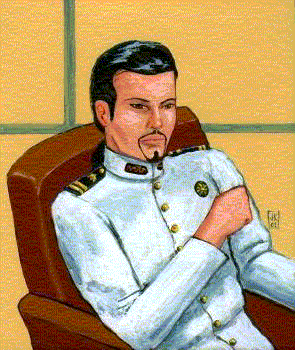 Mitsuharu is the sun reaching its zenith in the South, which is the domain of war (the god Huitzilopochtli) and the great enemy of the Four Hundred Southerners (the demons of darkness and the underworld). Mitsu's pursuit of the Turan is the contest of the ball court (the tlachco) as the sun descends into the underworld during the passage of night and - at last, rises victorious, restored and reborn.
Rank: Chu-sa.
Service ID 9874662.
A short, slightly built Nisei with stringy back hair, a neat beard and mustache, the son of a violin-maker and a shop-clerk. His family is from Shinedo on Anáhuac. Wry, soft-spoken and confident. Unlike many of his fellow officers, he is entirely content with his honorable position and command.
Hadeishi is born to an ancient Japanese clan, but while the Nisei nation is an old and respected ally of the Méxica, the Hadeishi are only a poor and ill-connected clan.

Mitsuharu is the first military officer from his family in generations, though the Hadeishi are descended from samurai ancestors.
Without political patronage or allies among the ranks of the great military orders (the Jaguar Knights or the Eagle Knights), it seems very likely that he will be a small-ship commander for his whole career.

His dress uniform includes service ribbons and two small medals.
Has served in the Fleet for more than twenty years, on a dozen ships.
Collects alien books and owns two Jomon period saki cups.
Jacket
No noble Clan affiliations.
No entries in Sponsor List.
Service Record
Summary
Sixteenth in his class at the Fleet Academy: fourth in tactical exercises, second in overall efficiency.
Winner of the Graymont Exercise three years in a row.
Decorated three times for valor under fire.
Service