Cornuelle
From ThroneWorld

Imperial Méxica Navy Astronomer-class light cruiser, IMN CL-341, assigned to detached duty anti-piracy patrols in the Hittite Sector.
Command Crew
History
Launched from the Teotihuacán Fleet Yards sixteen years ago. The class of Astronomer ships are now being decommissioned and retired from service, sold or parted out. (House of Reeds).
Overview

The ship symbol is a solar flare or sunburst.
Locations onboard
The command deck (or command ring) is located at the heart of the crew spaces in the forward upship section of the main body, surrounded by cargo holds and two belts of reinforced armor.
The Enlisted mess is on Deck 16.
Engineering is known as the engine ring and is located downship.
A tubecar runs through the transit-core of the ship.
Four corridors (shafts when the ship is under main drive) run from the stern to the fore of the ship.
Extract from Ship's Record
Named members of the crew
Green Hummingbird was assigned as Political Officer for the Ephesus III recovery mission.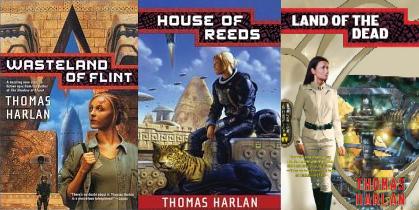 "In the time of the Sixth Sun" by Thomas Harlan