Concordance
From ThroneWorld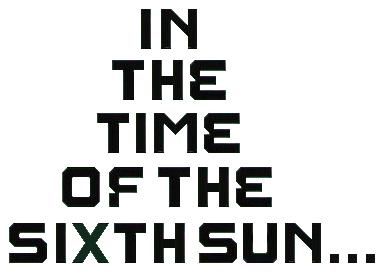 The universe of the Sixth Sun...
By the 25th Century the mighty Méxica Empire, allied with the Japanese Nisei has conquered the homeworld, Anáhuac. All the other nations, including the Danish Empire and the Empire of Swedish-Russia have been defeated and exiled to the Rim after centuries of warfare in the Inner Worlds of the Core.
But the universe is a dangerous place, filled with hidden powers and the relics of ancient civilizations...
Dramatis Personae
Warning! Concordance entries contain spoilers.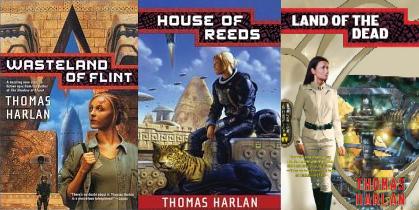 "In the time of the Sixth Sun" by Thomas Harlan
---
Numbers
2-d, 3-v, 416th Arrow Knight Regiment
A
Aberdeen, Acare, active scan, active sensor, Adamski, Admiralty, aerobus, aerocar, aeropack, aerotaxi, Aganu, Agensonae, ahuienime, Ahuizotl, AI, aircar, Akbal yards, Akesinos, akh-noodle, Akkadian Sector, Albanians, Albanian Spaceways, Aldemar Four, alert status, ammo coil, Anáhuac, Anderssen, Anglish, antigen, antigrav, antigravity, Antimatter, antispinward, APAC, Apaxis Transport Company, Arachosian Highlands, Arachosians, Araks, Arauadis, Arch of Dawn, Argentosonae, Ark Ship, Arkham Institute, Armadillo, Arrow, Arrow Knight Regiment, Arthavan, Arthava's Fire, Arthur's Seat, Asale, Assakū, assault shuttle, astronav, Astronomer, asuchau, Asuka, Atlatl-IV, ATGM, audio-stick, autocamo, Avalon, Avaya, Ax Idah, Aztec
B
Badon Hill, baka, Baldur, baleshrike, Bandao, banded red and white glyph, Bandopene, Bara, Barak, battle comp, Battle Group 88, battle-lights, battle plot, battle-stations, battle-steel, battletech, beam, beam cutter, beam pistol, Beowulf, Bharat, Bharat Four, bhang, Bhāzuradeha, Bhrigu, bigeye, bioscan, bizen, Blake, Blessed Prince, Blow, boat bay, bodywater, Bofors, Brass, brujo, Brunt, Budokan, bugeyes, busyink
C
Calexico, Calmécac, calmedown, Calpulli, Capisene, capital, Capsia, Captain's Launch, Cardenas, Carlyle, carryall, carver-of-stone, caseless, cast, Castle, Ceatl, Cecily, Center, ceramacrete, chaguh, chant, Chapultepec, chapultin, Chehalis, Chemakum, chest rig, Chimalpahin, Christ on the Stone, Christ the Risen Sacrifice, Christ the Warrior, chocolatl, Chosin, chrono, Chumash Sound, Chumene, Churgangrad, Cihuacoatl, ciuateteo, CL, CL-341, clan, Clan Ark, clan-squadron, Clark, Clarkson, Clavigero, Claw-polishers, clearhead, Cold Lands, Colonial Department of Education, Colmuir, Colonial Service, Colonies, combat armor, combat-drug, combatskin, combat visor, comm, comm array, command deck, command ring, commcast, comm-laser, comm lock, comm-band, comm-glasses, comm-pad, comm-plate, comm relay node, comm-scanner, comm thread, comp, Company, comp conduit interface, conical mountain belching flame, Continent Four, Conquest, Corcovado, Core, Corewars, Coriolanis, Cornuelle, Coromandel Station, Cotopaxi, Court, Crag-wolves, crawler, cross-deck, c-storage, Ctesiphon Station, Cuizmoc, cutting gel, cycles, Cymru
D
Danish Empire, darmanarga moktar, Dakota, Data cartridge, datacomm, datacore, data-feed, datagram, datapak, data-port, data-stream, Dawd, day-program, daysuit, DD, DD217, Deckard, deck shoes, depleted uranium dermaseal, descender, designation, Desolation, dhrada-mandura, Diet, District of the Weavers, DN, DN120, downship, Dorei, Drone, dropwire, Duchy of Kent, Dumfries, Duncan, Dundee, durafiber, durbar
E
Eagle glyph, Eagle Knight, eagle twisted around cactus pads, earbug, EB62B, echo-scan, ECM, Edinburgh, Eight-Deer, eightgoodhours, Éirish, Ek Chuah, electropaper, Elder Warrior, Emissions control, Emperor's Day, Emperor's Teat, engine core, engine ring, Engineering Board, entry vector, enviro, envirosensor, Ephesus System, Ephesus I, Ephesus II, Ephesus III, Ephesus IV, Ericsson, Escarpment, Europa Planita, European Alliance, EVA, eyeball, eyecast, Eye-shields, eye-v, EXA
F
Fearing, feather-cape, Fehrupuré, Felix, fiberfill, field comp, field jacket, Field Officer's School, Fifth Sun, fil-tube, Fire-snake, Firetower, First from the Center, First Sun, Fitzsimmons, Firten, Firtog, Five Rivers, flare shield, flayed-man's face glyph, flechette, Flechette-wire, Fleet, Fleet Engineering College, fleximesh, flitter, floor pad, Flores, flower-box, Flower Listener, Flower War Priest, Fo-san, Forochel exercise, Four-Flint, Four Hundred Houses, Fougasse, Four-Mountain, four-wind glyph, frayvine, fuel cell, Fuentes (Antonio), Fuentes (Carlos), FTL
G
Gagarin, Gaijin, Gandaris, gatling Geema, gelsuit, Gemmilsky, Gemmu, geodatabase, geosensor, Gerhard, Ghazu, Gher Shahr, Ghor, Ghuhore, giddyup, Ginza, gipu, glassite, Glowbean, glowlamp, glyph, Goggles, Golden King, golden mountain, Gorond, Gossi, Graymont Exercise, Great Clans, Green Hummingbird, grenade, groundcar, groundtime, groundtruck, g-array, g-box, g-deck, g-dimple, g-field, g-sensor, g-shock, g-spike, g-stress, g-waves, grav-lift, guardservice, Gulatith, Gui-ni, Gumshan, gun deck, gunrig, gunscope, Gylfisson
H
hab core, hab ring, Hadeishi, Hagit River, half-watch, handpad, hand-comm, hand-comp, handheld, Haraphan, Haraphan Kings, hardline, harivarpan, hatchling, Hathol, Hayai Roku, haylan, hayin, Hayes, healfast, Heart of the World, Heavenly Mountain, heat sump, heep, Helsdon, Helmand, heshak, Heshatun, Hesht, Heshukan, Hesperides, hexacarbon, hexsteel, hextile, highband, high-grav, Hikkikit, Hittite Sector, Hive Invaders, Hive Invasions, Hjogadim, HKV, HL-SAM, Hofukai, Högkvarteret, holo, holocast, holodisplay, holospace, holostore, holovee, Honda, Honorable Chartered Company, Hosukai-Tesla, Hotategai, Hotchkiss House of Reeds, hrak, h-space, Hubbert, Huehuetl-6B, Huémac, huey tlatoani, Huicton, Huitzilopochtli, Huitzilozoctic, Humara, Húnd and the Diamond Eye, Hundun Pao, Huntress, Hussite, huungal, hydrocarbon, Hypasis, Hyperdrive, hyperspace
I
ident code, ident panel, IdeoStat, Inca, Ik-hu-huillane, Il Dioptre, IMN, IMN Personnel Files, Imperial, Imperial Army, Imperial Army Personnel Files, Imperial Attaché of Antiquities, Imperial Center, Imperial Development Board, Imperial geodatabase, Imperial Legation, Imperial Marine, Imperial Marine Personnel Files, Imperial Méxica Navy, Imperial Planetary Reclamation Board, Imperial Protectorate, Imperial Scout Service, infostream, Inner Worlds, interp, IP, IPRB, Iroquois, Isabelle, isha, Isoroku, Itzpalicue, Ixtiloch, Iztanuma, Iztanuma PRK80
J
Jacket, Jagan, Jaguar Gate, Jaguar Knight, Jamison, jandar, Jehan, Jehanan, jetcar, Jeweled Kings, jezail, Jihnuma, jitterbug, Jomon, JOQ, Jorikū, Judge, Jump, jump chair, Juntoku, Jupiter Yards
K
K-schlacht, kaaasha-shaan, kaffe, Kahlinkiat, Kasei, kaichesh, Kaiserschlacht, kalang, kalpataru, kanji, Kärrhök, Kaskeala, keisatsu, Kelly, Keshewān, Ketcham, Khahtsalano, Khaid, Khaid penetrator, Khanus, Kharna and the Hundred Princes, khaysan, kheer, khus, Kiev, Kievian Rus, Kingston, Kinlochewe, Kiruna, Knights of the Flowering Sun, Knights of the Order, knockdown, knockmeout, Kobushi, Kodon, Kolob Four, Kommando, Komodo, konnichi-wa, Koningsborg, Kophen, Korgul, Korkunov, Koshō, Kotopaxi, Kroomākh, kshetrin, Kuub, kujen, kujenai, Kulizadhara, kupil, kurbardar, Kuvalan, KV-45B, kyo, kyojin
L
lab ring, Lachlan, laser-whisker, Last Day, Last War, Lencolar Sister, Lengian, Lennox, lift-core, lifter, Light of Heaven, lightwand, liner-run, Lisbon Accords, List, locator, locator band, lockdown, lohaja, London, longeye, long-horn, Lord of the World, Lord Musashi, lort, Luger, LuxTerra, Lynch, Lysenko effect
M
Macana, macauhuitli, macehualli, macehualli pochteca, MacLaren, Macuilxochitl Five-Flower, Magdalena, maglev, Ma'hesht, maiket, main comp, main drive, main sensor array, Makers, Malakar, Malta, malinche, mandire, Marduk, Margaret Acatl, Mark Ninety-six proton cannon, Mars, Mars Academy of Science, Maratay, Master of the Garden, Martine, Matlalzinca, Mayahuel, McCue, mealbag, mealheater, medband, medevac, medibot, medical feed, medbay, medpack, meeting-with-claws-sheathed, Megair, Mei, melle, memorywipe, message drone, Méxica, Méxica Calendar, Méxica Emperor, Méxica Empire, Méxica Religion, México, Mézcal, Mice, Michóacan, microcell microfauna, micro-radar, microscanner, Midge, Mimixcoa, ming, Ministry of Finance, Mirror, Misadai, Mistletoe, Mitla, Mitsubishi, Mixtec, Moison-Nagant, moktar, Mokuil, molé, molk, monofil, monofilament, Monofilament-knife, Mouse, multispec, multitool, Muru
N
Nacace, Nadaizumi, nagual, nahwah, Nahwar, Nambu, Nanchao, Naniwa, Náhuatl, nauallis, Nanhuaque-drive, nanomech, nanoweapon, naragga, Navplot, nav-track, nearpine, nechichiualiztli, Nēm, Nēmnahan, neural web, New Aberdeen, New Canarsie, New Canarvon, New Devon, New Edo, New France, New Malta, New Stockholm, Ney Arkham Institute, Nezahualcóyotl, Nezahualpilli, Nightcast, nightcycle, Nightingale, nightsight, Nisei, nnningurshimakkhul, nonskid, nopain, nostain, Norman, Norsk, Nörsktrad, North Italian Military District, Novaya Zemlya, Novo Bialostok Akademy, Novo France, Novoya Rossiya, Nuskere Pol, nymast
O
Observatories, Occitania, octli, Offering Flowers, Old Earth, Old Mars, Old Russian, Old Scar, oliohuiqui, optical thread, O'Reilly, Orkan, Oswego, otomitl, Ouarsene, outer hull, Outrider, oyabun,
P
paigim, Painal the Runner, Painted Lord, pakka, Pakrit, Palenque, paline, pan, pang, panjir, Papalotl, Pardane Fes, Parker, Parus, passive scan, passive sensor, Patala, Pataya knot, Pâtecatl, path-plot, patolli, patu, Paulson, paw-book, Paxaxl, Peapod, Peerless Hunter, Per, Petrel, peyotl, Phison, pickup bug, Ping Fa, pinhole mode, Pipeflower, Plamondon, plexisteel, Pochteca, point-defense, Polaris, pop-top, Porlumma, Poseidon SureClean Filtration, power cell, power chip, power fence, PPCAM, PPCAM-17, privacy bomb, Provincial, pulque, pushta, pypil
Q
quickcrete, quick-cycle, quickheal, quill
R
Rabbit, rabbit ear glyph, Radiant Palace, Rae, railgun, rain-cape, Raising-the-Banners, reaction drive, reactive armor, reactor, ready-alert, readysetgo, realcow, realfir, realpaper realspruce, rebreather, recon bike, recycler, Red Fort, Red Phison, refractive, recog, recog code, Renton, repeller field, respirator mask, responder, Rho Triangulis, Rim, Rim Colonies, Riotgun, Royal Navy, Royal Swedish Intelligence Service, Royce-Energia, Rossiya, RSM, ruhel, rukhbarat, Running-man glyph, Running-man bearing a flame glyph, Russovsky, Rusted Citadel
S
-san, -sana, Saab-Scandia, Sagamish, Sagant, sampler, Sandvik, santos, Scandia, Schulman, Scorpion, sealotape, secondary control, secondary hull, Second Blow, Second from the Center, Second Sun, Seeking Eye, seethrough, Seitaj IV, sensei, senso-gear, sensorium, sensor wand, Seven Clans, Seven Hundred Clans, Seven Imperial Clans, shatamanu, Sharak, Shawnee, sherakan, shhrast, Shimanjin, Shinedo, Shinjuku, shipgun, shipkiller, ship-pistol, shipsdawn, shipskin, shipsnight, shipsuit, shiptime, shockchair, shockcushion, shockfoam, shockframe, shock harness, shockgun, shockpistol, shock pellet, shock restraints, shockrod, shockwebbing, shock-soles, shoji, shorthorn, Shoryu, Shrike, Shtlantskee, shuchiji, Shumash, shuttle, sicane, Sif, sim, Sinclair, Singing Temple, sirkar, Sister, The Sisters of the Rose, Sixth Sun, Six Hundred Dynasties, Skawt, Skawtland, skinmesh, skin mesh, skinsuit, Skirt-of-knives, Skoda, skomsh, Skull-glyph, skyscan, Sky-the-Colour-of-Birthshell-Fragments, slick, Slingers-of-Stone, sleepbag, sleep cycle, sleepgas, sleepyhead, Smalls, Smith, Smoke-class, Smoking Mirror, Snake-Eagle-Arrow glyph, Snoopsoft, Snorkel, Sobipuré, soft, soft-scale, Sol, sonosound, Soumake, sounders, spaceframe, spare-eye, spinward, spinytail, spybug, spyeye, sprint, squirt, Sra Osá, Ssagatiak, ss'hi'a, ss'shuma, sssrst-ta, SSW, stand-down, starman, Star of Naxos, star-liner, star-which-returns, stasis bag, Stations, stat pane, stayawake, Stewart, stickypatch, Stiletto, Stonesmasher, storage crystal, Stuart, stylus, Sú, sub-light, submike, sub-pane, Suchiru, Sunda Aerospace Yards, Sun, sureshot, Svartheim, Swedish Naval Operations and Research, Swedish Royal Navy, Swedish-Russia, Syria Planum
T
tabac, Taborite Missionaries, Tachyon Transmitter, Tadmor Station, Taiko, Takshila, Tanglewire, Tarascan Rifles, tatami, t-lock, t-relay, t-wave, Tcho-Tcho, tchun, Tecaltan, Tecaltan 88, Tecumozin, Tehuiā, Telltale, Tembanifar, Templar, Temple, Temple of Truth, Tenochtitlán, Tenno no Nihon, teoatl tlachinolli, teomicqui, teonanácatl, Teotihuacán, Teotihuacán Fleet Yards, Tepoztecatl, TeraWave, Termovich, tetonalti, Tetzcoco, Texcoco-ISA, Tezcatlipoca, Tezozómoc, than-tan, Third from the Center, threat-well, three-d, Three-Jaguar, threesquare, throatmike, tianquizco, tiemeups, tightbeam, tikikit, Timbuktu, timeline, Time of Ghosts, Timonen, Tiss, tititil, Tizoc, tlachco, tlachcho, Tlachialoni, Tlahuicole, Tlahulli, tlamatinime, tlatelolco, Tlaxcallan, Tochihuitzin, Toge, Tokuga, Toltec, Tonatiuh, Tonehūa, Tonuac, Toporosky and Sons, topship, Toroson, Toroson System, tough-hide, track, traffic control plot, transit, transit-core, transit deflector, transit vertex, Treaty of Rostov, Tristan, trollkarl, truedog, truelk, truepine, Tukhachevsky, tu, tubecar, Turan, turbine core, Turquoise and jade bracelets, Turzan, Two-Dog, Tyr, Tyrell, -tzin, Tzitzimime
U
uchumon, Ugarit, Uheru, u-light, ultra-light, Unity, upship, Usunomiya, UV
V
Vainamoinen, Valkar, Valkyrie, Vanadium, Van Belane, Varanus, Varkan, Vasa, Vazur, Venadan, Venice, Ventris Aerosystems, Verdun, Villeneuve, videopatch, vid-eye, volkscommando, v-cam, v-channel, v-display v-feed, v-pad, v-pane, v-panel, v-pickup, v-screen
W
waist rig, wakemeup, War of Flowers, War of the Hundred and Six Brothers, warrior with two reeds glyph, waspwire, watch, Wayfarer, Wayfarer Visa, Webley, Webley 220, Webley AfriqaExpress, Webley Bulldog, wergeld, Whipsaw, Whisperers, White Lily, White Teeth, Wind King Temple, woodgaunt, worklens, worklight, workpad, work platform, workrig, woundgel
X
xenoarch, xenoarchaeology, xixixit, XO, Xochipilli, Xochiquetzal, Xochiyaoyotl, Xochiyaotinime, xocoatl, Xonocatl
Y
yakka, yaochimalli, Yacatolli, yausheer, Yellow Flagstones, Yellow Phison, Yejin, yherach-kwlll, yi, yigal, Yoshitaki, youth bearing two rabbits glyph, Yoyontzin, Yyrroowwl-mrrwerup, yrrrchowl-sshama, yrrrchu-owl
Z
Zapotec, Zeiss-Hanuman, zenball, Zhendai, Zhern, zipcuffs, zizunaga, Zlotawoda, Zō, zugaikotsu, z-armor z-g, z-helmet, z-suit