Category:Ship Orientation
From ThroneWorld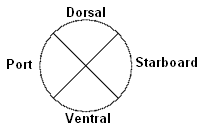 Orientation quarters of a starship.
The diagram assumes the perspective of a person standing on the dorsal outer hull and looking upship towards the bow.
(The actual interior decks within the hab core are horizontal relative to the thrust of the main drive so the bow is upship and the stern downship.)
Pages in category "Ship Orientation"
The following 5 pages are in this category, out of 5 total.
A
D
P
S
V