Category:Empire of Loh
From ThroneWorld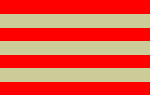 More properly, the Empire of
Walfarg
.
The Empire carved out by Walfarg taking in all of Loh, Pandahem, Eastern Turismond, the Hoboling Islands, and other areas. Now completely fallen, although there are traces left in various countries — roads, religions, culture, and fashions.
Pages in category "Empire of Loh"
The following 10 pages are in this category, out of 10 total.