Astronomer
From ThroneWorld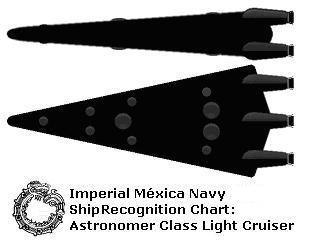 Class of Imperial Méxica Navy light cruiser.
The class of Astronomer ships is being decommissioned and retired from service, sold or parted out. (House of Reeds).
Roles
The Astronomer-class of IMN cruiser is defined to fulfil the missions of long-range force-projection and reconaissance, either in an independent role or supporting a battle group.
Each role utilizes its capability to:
Detect and counter enemy ships.
Avoid counter-attack using its manoeuvrability and stealth profile.
The Astronomer-class is deployed:
In a detached role:

Patrol to follow a regular route, performing:
Interdiction to delay, disrupt, or destroy enemy forces or supplies en route to a battle area.

In a main fleet role:

To provide light reconnaissance and interdiction.
To harass enemy vessels whilst screening higher value assets from attack.
Ships of the class
Overview