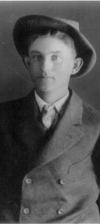 My great-
grandfather Claude Beames.


Thomas Harlan (7)

Builder and maintainer of this site. Writer, systems administrator, technical management, applications design and development. Tom currently writes full-time.

Consulting dendrochronologist working with the University of Arizona Tree-Ring Laboratory. Experienced in archaelogy, anthropology, field-work and land ownership testimony. Recently retired from the Southern Arizona Search and Rescue Association after forty years of service.

Consulting botanist, experienced in archaeo-botany paricularly for Sonoran desert plants. Also a writer of SF and fantasy.